Strolling through the Martha Stewart section of my local craft store I was surprised to see a craft kit she has that teaches you how to make paper beads. I learned how to make them as a kid and thought everyone else must have also. I saw that most of her craft kits were things I already knew how to do. It hit me then that I am what the french refer to as a, "woman of a certain age," So for all the spring chickens out there, here is how to make paper beads.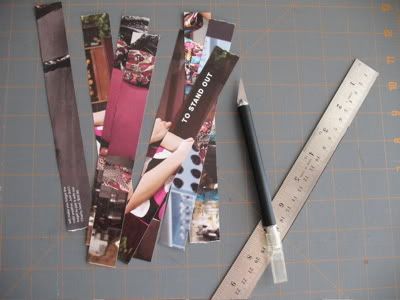 Cut out strips of paper. I used heavy glossy advertising pages from a magazine.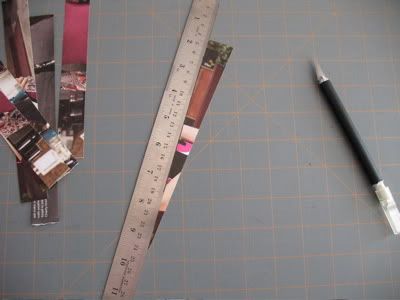 Cut each strip into two triangles. Do this by cutting from the top left corner down to the bottom right corner.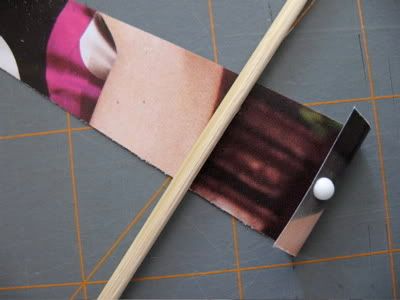 Get a skewer, (this is what you'll form your bead on,) and put a drop of glue on the endof the piece of paper. Then roll the triangle of paper up evenly and tightly, gluing a bit as you go.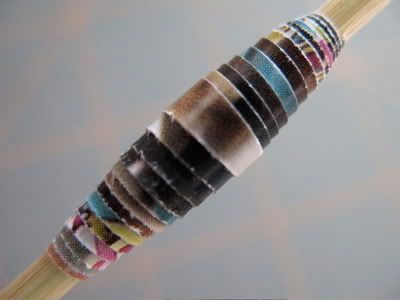 You will end up with a bead that looks like this. The bead will need to be sealed, I've always used clear nail polish or matte medium. I lke sealing it while still on the skewer, but be very careful not to seal it
to
the skewer. Slie them of the skewer when they are dry, and use them in any jewelry making project.